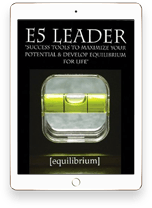 Become an E5 Leadership Academy online member for FREE!
Doing what you do everyday, are you getting all the time, money, freedom, and success you want, need, or desire out of life?
Get instant access to our free training video on "The #1 Key to Building the Life of Your Dreams," and you'll also get weekly tips and trainings on how to become a better leader at work & home.
This offer is available for a limited time during the launch of the online E5 Leadership Academy.
We will never sell, share or otherwise squander your email address
E5 Leader has made me much better than I was before. I can take everything that I've learned and provide it as little seeds to my friends and family members who might be in difficult situations that I was before. I would say that if you're researching or wavering on making a commitment to E5 Leader and be a part of the program, I would say you have to go through with it because it's truly life-changing and it's truly a wonderful program to better yourself.
– Brad S., Sales and Marketing Professional
I would recommend E5 Leader on a personal level because it was very powerful to learn about myself. I really got a better idea of what success is in my personal and professional life. Instead of defining success as a certain salary or a certain vacation that you take, it's really about the freedoms that you have in life and the people you love most loving you the most, as well. It's definitely helped my family life in that perspective.
– Jennifer O., Executive Working Mom
E5 leadership principles will give you the blueprint for life balance. That life balance includes the spiritual, mental, emotional, physical, and financial. These principles are going to help you to dream. You're going to learn the 10-10-10 process of dreaming, of setting goals, and achieving them. You're sowing seeds everywhere around you.
– Frank A., Small Business Owner
Mark has been a tremendous factor in my career development. It's no surprise that, after I met and worked with Mark, I gained a sense of confidence and was so genuinely inspired that I literally ceased my employment and opened my own professional practice. Mark's ability to identify one's personality type, strengths and weaknesses is uncanny, as his ability to lead and develop customized tools to assist one to meet one's highest levels of self-actualization. Mark is truly a "one-of-a-kind" – a remarkable man, person and coach.
– Todd, Partner in Business Law Firm
I was looking for some help on how to promote leadership in my organization. Working with E5 Leader changed my whole style. 3 or 4 months, I started really seeing the value in the E5L system. This the place the go.
– Brian L., CEO of an International Company
Once I dove in, I immediately wanted more.  E5 Leader has helped me change my mentality and dialogue. I'm so grateful for that. It's such a holistic approach and it's powerful. I'm so happy with the improvement I made and I'm so excited with what's ahead of me."
– Christina H., Professional Serving Young Adult Ministries
When I called Mark, I was in a small transitional period in my life.  I was struggling a little bit. Having Mark and having been given those tools and using them on an everyday basis, it's like building a building with a blueprint. Instead of trying to fight through what you don't know, you take this blueprint and it's a lot easier to build the building and it's a lot more fun.
– Donnie D., President of a Demolition Construction Company