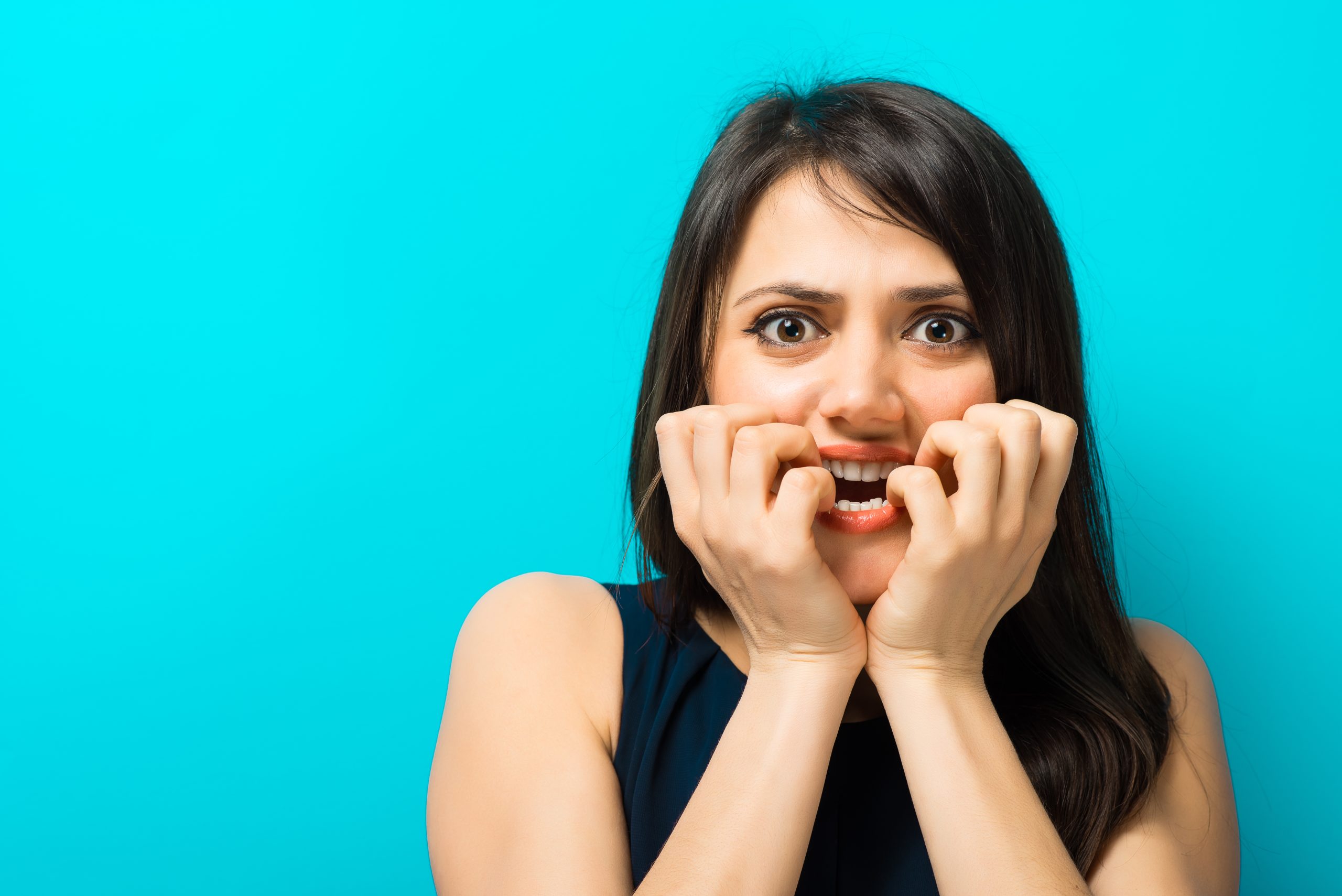 Dealing with Apprehension
Can you remember the last time you held a great deal of apprehension? Maybe it was an uncomfortable moment, a confrontational conversation or a space or event that gave you an unsettling feeling of anxiety.
I'll never forget the first time I went downhill skiing.  That hesitant, apprehensive feeling I had staring down at the humungous run I was supposed to ski down with little coaching or skill to aid me.  Ohhhh, man, was I nervous!
To eliminate that apprehension at the top of the hill, I had to face the situation and get comfortable fast. I had to take a deep breath, own the moment and tackle it. There was no other way to get down that ski run (without losing my pride, anyhow!)
Getting comfortable fast is not always fun. The first big ski run, counting on no one but me, was enough to get my heart pacing pretty darn fast.  The reality is this: the more comfortable you become on skis, the less apprehensive you will be at skiing. Pretty soon, that hesitancy is a thing of the past.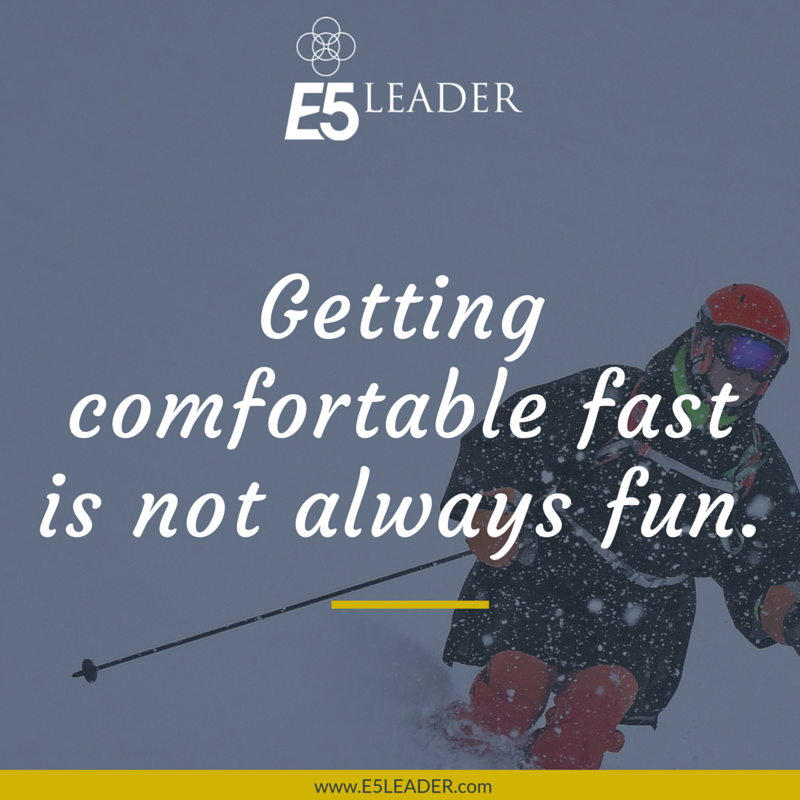 Apprehension is not being 100% sure you've got a grip on your current situation, that you won't succeed in what's facing you. None of us are ironclad–we all have these moments.
[clickToTweet tweet="Apprehension is not being 100% sure you've got a grip on your current situation…" quote="Apprehension is not being 100% sure you've got a grip on your current situation…"]
We can also create these moments in others. As leaders, we have to be aware of how our actions and words can cause apprehension in others. Within expectations or delegating tasks, we can create anxious attitudes without even knowing it!
The questions for us today are:
In light of our own understanding and experience of apprehensions, how do we deal with them within our team?
How do we avoid creating apprehension within others around us?
Some apprehensions are unavoidable; how do we help others reach up and grow beyond them?
Let's get down to it, shall we?
Have realistic expectations. Leaders who expect the impossible by not considering timing, situation, infrastructure/systems or who they're asking are breaking down the morale of the team. If you ask for something built, give your team the tools to do it. If you put a large burden on the shoulders of one person, give them the clearance and power to get the job done properly. Oh, and hey: relax! Life is more than work. Think of your team as human beings who have more of a life than in the office.
Be a cheerleader for your team. Some of the biggest 'failures' in life move on to become the greatest icons of history! Believe in the possibility within each person. When working people through their apprehensions, use words, genuine positivity and presence to move them forward towards success. This may take a while! So, be prudent and make the choice early to invest in whom you see great potential.
Give them your trust. The ability to 'let go' is a great asset to eliminate apprehension. Give them mentorship and trust and they will do well. As a leader, you can't do it all. To think you can will give you great apprehension! When you give tasks, trust recognizing that, at times, there will be failure! It's part of the human condition! When they do fall, be sure you are there to pick them up and direct them on the right course. Don't beat them down. Build them up (be human).  Knowing things are fixable and reversible will help you trust more.
Consider Strengths. Place people within their gifted areas. Sometimes, we invite apprehension into our lives because we try to tackle things we're just not good at. It's the whole idea of choosing your college degree based off of your interest as well as your strengths. No one wants to waste their time becoming average. That's okay for recreational fun. In the business world, people don't pay for average. Pay attention to your apprehensions and those of your team and determine if they exist because you or a team member are working outside of your strengths.
Tackle inadequacies. This idea is a little contrary to my last point, but not because I'm losing it. It's because there's a fine line between deciding to set something aside because it's not within your strengths and deciding to tackle it so you can master it. I met an amazing guy who impressed me with his character. He is a public figure and often speaks to large groups, even on television. He admitted to me, confidently, that he had, in the past, struggled with extreme anxiety and panic attacks. Phobia of talking to crowds. How did he manage it? He didn't run away from it: he faced it head on. Very purposefully, he became the public figure he is today. He said: "I was determined to not let it limit me and attacking a problem is often the best approach.  It's been challenging at times in my current role…. I battle through the tough bits and now it's mostly a fleeting discomfort."
Give Room to Grow. Give people the ability to think and grow within their abilities. Productive thinking leads to positive growth. Apprehensions come when we are not sure about something. There have been times when I have felt great apprehension imposed by others because I was boxed: expected to complete a task their way without credit for my own abilities. My natural response is to break out of their box, causing frustration and apprehension. As a leader, sometimes the best thing to do is to get out of the way and let others figure it out on their own. This is how creativity and innovation is born.
Be Balanced. Responsibility is to walk the line of caring and accountability. Being overly caring will make people walk over you. Being overly accountable will make people walk on egg shells. Find the balance.
Set clear expectations. To eliminate the apprehension of disappointment with your team and others with whom you work, be sure to set clear expectations / milestones / and goals. This will take all the emotion out of directing and coaching your team. You will be left with mutually accepted expectations.
Apprehensions cause us to hesitate and to question. Well managed, they can lead us to a place of growth. We can learn to appreciate moments of apprehension that cause us to create results and learn from our journey.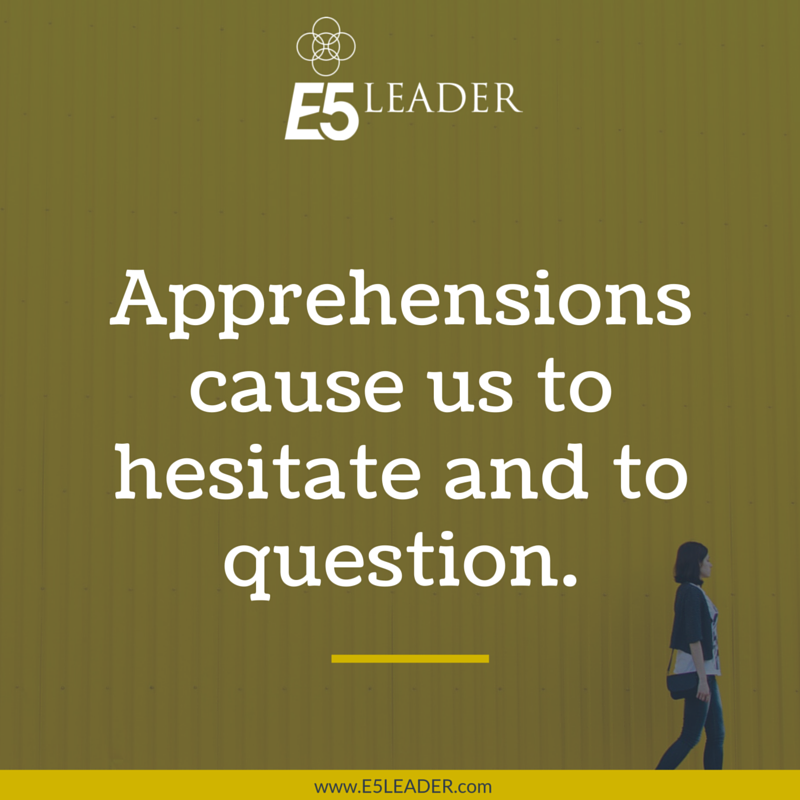 Go and Grow as an E5 Leader!