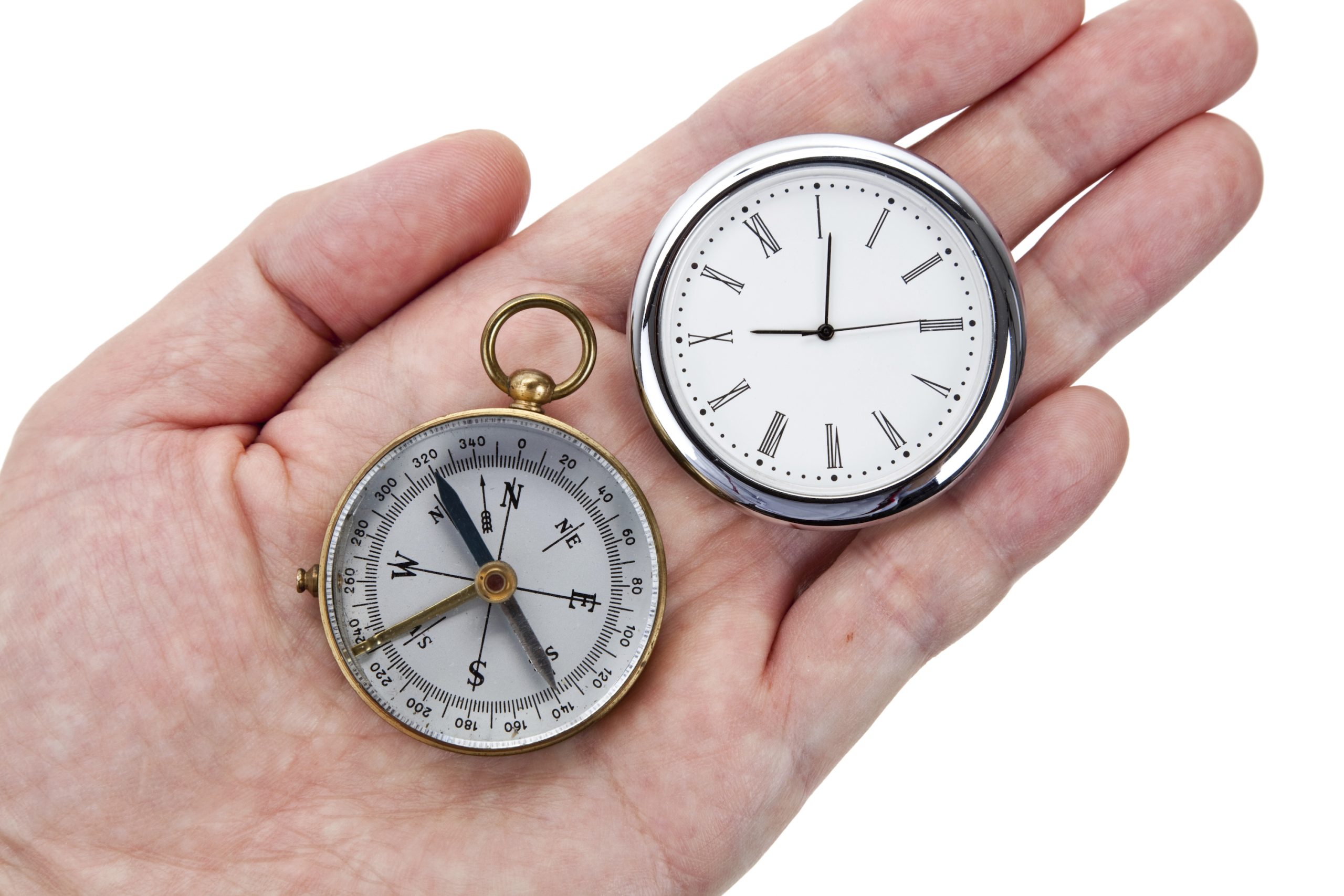 Are You Living by a Compass or a Clock?
Some say you can manage your time.
Can you really?
The answer is no.
Time moves on whether we like it or not, and we can't control it. We can't get it back.
What you can do is manage your priorities. Priorities are those things in life you consider worthy of your time and energy. Ultimately, it's your priorities that will determine your success, joy and fulfillment.
Getting the most out of life requires good management of your priorities.
Ask the father about the value of that memorable weekend he spent with his daughter who sadly passed away just one short year later: how much was that weekend worth to him now?
Ask the 40 year old man who looks back at his life only to feel that he has made no impact, had no direction, had done nothing of value, all because of 20 years of poor decisions and habits: how heavy are those decisions now?
You can't manage your time but you can manage how you spend it.
I want to share with you a tool for looking at time and priorities that changed my life in profound ways.
The Compass and the Clock
Your compass signifies your purpose, vision and mission for your life. Your clock represents your commitments, activities, calendar, schedule and so on.
Both the compass and the clock are important and necessary – but what's most important is that the compass must always lead and govern the clock. If not, life will be like the spin cycle on the washing machine: round and round with no real direction.
If you live by the clock, life often feels overwhelming,  even paralyzing at times, always trying to get ahead but going nowhere or being pulled in by other people's agendas and not having enough time to take care of personal needs.
In comparison, when you live by the compass, life has more of a sweet quality to it. The compass gives you the satisfaction of spending meaningful, undistracted, quality time with those you love or the realization that the hard work you're doing is moving you in a positive direction.
Right now, you may be relating to having a life driven by the clock and a life driven by the compass. You may have a bit of both driving different areas of your life. Regardless of where you may be with your priorities, there's always room to grow and to perfect the art of managing the compass and the clock.
Here are a few tips to help you grow as you experiment with this new way of setting and managing your priorities:
#1 Know what's going on around you.
What priorities need your time and require your attention right now?
Every minute you give away carelessly, through misalignment of your dreams or by falling into someone else's priorities, is gone forever. So, begin recognizing who and what matters most. Remember, all activity is not productivity. A well-known statesman Goethe once said,  "the things that matter the most should never be at the mercy of the things that matter the least." Great wisdom… know what matters most and have the discipline to be driven by the compass towards your dreams.
#2 Understand who you are.
Know and understand how you're unique. Working in your areas of strength will give you a better return on your priorities. You'll simply be able to move with greater accuracy within your priorities. You can also use what you're naturally good at to help deflect negative influences and keep you in priority. With the knowledge of your natural abilities, you'll be able to delegate to others those things that aren't your strengths. This will give you more time to focus on your priorities and provide the best value you can in every situation.
#3 Get clear on your purpose.
Your purpose is connected with your dreams, what you desire and what you think is rewarding. Most people are driven in purpose by such things as faith, family, lifelong goals, passions, etc. We have only one life to live, so be generous with yourself and fill up your life with those things that give you great joy.
When you're clear on your direction and purpose, you make choices that are aligned with your goals. When you see the direction you're going or see the person you wish to become, your path becomes clearer and you determine, with greater accuracy, where you should direct your energy. The things we choose to do every day will determine our success – so know your purpose and go and grow!
Take your priorities seriously – they're your key to somewhere. Get a compass in your life and take control of your priorities: if you don't take control of your life and your priorities, someone else's agenda will.
Go and Grow as an E5 Leader!